Geer Tree Farm
Geer Tree Farm has been a beloved part of the Connecticut landscape for years. We are a family owned and operated Tree Farm with 100 acres of beautiful Christmas trees to choose from. Each year when the season is right, bring your family out to pick out the perfect Christmas tree, keeping the family tradition alive or starting a new one!
Stop in at Geer Tree Farm, located at 141 Norman Road, Griswold CT today.
Choose & Cut
At Geer you can select one of our fresh-cut trees, or enjoy a scenic stroll through our many acres of live trees and cut your own. We have many sizes, shapes and varieties of top quality trees to choose from, plus a beautiful selection of handmade Christmas wreaths and decorations.
Geer Tree Farm Grows the Following Types of Trees:
Fraser Fir
Douglas Fir
Concolor Fir
White Pine
White Spruce
Blue Spruce
At the Tree Farm, we will provide you with a sharp handsaw to make easy work of cutting down your selected tree. Then once you have selected and cut your tree, we will bale your tree to make it far more manageable for putting in a car trunk and into a tree stand.
Pre-Cut
At the Fresh Cut Tree Outlet, we offer the convenience of selecting a freshly cut tree in a variety of types and sizes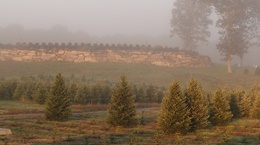 without the hassle of cutting your own. We will also bale your tree for transportation at no additional expense to get you on your way home to decorate and enjoy your new tree.
Entertainment
Make a day of it! When the weather's turned chilly, you'll find all sorts of vendors at the Tree Farm to help make your Christmas tree choosing even more special. On weekends, food trucks pull up with food, popcorn, snacks and more to help make the occasion festive and fun for all!
Tree Care - What to do at home...
Once you get the tree home there are several things you need to do keep your tree in top shape.
Cut 1/4in. off the base of trunk if it has been more than 4 hours since it was cut. This fresh cut will create a free flow of water into the tree to preserve freshness.
Display your tree in a cool place out of a draft. Fireplaces can dry your tree prematurely.
Water, water, water! Trees are very thirsty and will use up to a gallon of water each day. Check the stand each day to check the water level. Don't let the water ever go below the fresh-cut base, ensuring that your tree keeps drinking and stays fresh. There's no need to add anything to the water either. Most experts insist that good old water is all you need to keep your tree fresh through Christmas.
Come to Geer Tree Farm for your Christmas tree this year and for years to come!