Home
Geers has been in business over for 50 years now. We are able to give expert advice for
construction and landscaping, and our company adds, to the infinite number of what it offers the community, a huge number of trees. We are a family-owned company that is dedicated to providing our clients with quality services. We have over 100 acres of trees which have won various awards, and that can be used to serve different purposes. Geers Sand, Gravel and Tree gives you a wide array of landscaping materials including an array of beautiful and palatalized stones.

We know choosing the right materials can be difficult. We are glad to help you choose what's right for your job- showing you both the advantages and disadvantages of each of your options. Our myriad of materials is top class and will get your project properly done right the first time. We offer fill, concrete sand, concrete mix, Bank Run Gravel beach sand, and mason sand among others. Our customers are our life blood, so we are proud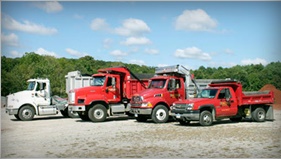 to offer quality services including large and small excavation, gravel driveway repair, site work as well as grading services.

Geer tree farming has, for a long time, been a part of the Connecticut environment. Managing over 100 acres of Christmas trees, we are your choice when it comes to picking Christmas trees for your family and keeping the family tradition alive. Visit our tree farm to find white pine, white spruce, blue spruce, Douglas fir, and Fraser fir trees.

Above all, our many years of experience is a sure indicator of how much we can deliver when it comes to your project. Our skilled workforce can give you professional advice- no matter what stage in the process you are in.



The Overlook at Geer Tree Farm
Looking for a romantic, rustic outdoor wedding with access to over 140 acres of private farmland? Then you must check out The Overlook at Geer Tree Farm. Get in touch and start the journey to living your wedding day dreams.